About me
 I am a Burgundy born and bred (land of yummy snails and many good wines and cheeses) French tutor, with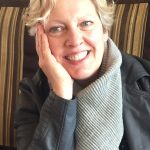 29 years of experience.
After studying Media at University in Strasbourg, then working as a journalist in Nevers (my home town) for 4 years, my interest in travelling, doubled with a passion for the English language, led me to spend some time in Ottawa (Canada) in 1988, where I began my training as a teacher, in a French language school.
The following year saw me hiking across Australia (much warmer!) and settling for a while in Melbourne, to carry on with the training.  I also started teaching there : adults in the Alliance Française (French language school) as well as bilingual children in a local primary. When my visa expired, Immigration gave me a simple choice : marry an Australian and stay, or go back to France and try to apply for a new visa….
Well… I loved Australia but…. I went back home for a bit, and after a quick rest I hopped on a ferry accross the Channel and set about exploring London…. Love at first sight!
I worked for 4 years in the Alliance Française and directed the Ealing Broadway branch for 2 years, before meeting an Englishman and…. getting married!
We moved to Tunbridge Wells in 1992 and I worked for a few years for the Adult Education Centre and for Cicero Languages, whilst still privately tutoring GCSE/ A level students and adults.
After a pause of a few years to look after my two gorgeous children (a little grown up now!), I started to work again, writing articles and recording, for the French magazines Concorde Publications. Since 2009 though, I have decided to concentrate on tutoring from home.
I have been in England for over 25 years now but all my family are still in France, which means I make regular visits. My job requires that I stay in touch with everything that happens in France and in the francophone world, as well as all the British education and examination systems.
Qualifications :
* BA Honours (1st class) Modern Language Studies with French and Spanish.
* Further and Adult Education Teachers' Certificate.
Approach :
After our initial chat, you will be following a programme designed just for you, so that your needs may be met without delay. Together we will be choosing from an array of sources (real texts, DVDs, cassettes, textbooks, Internet, discussions, role-plays, etc…) in order to keep you progressing, with motivating and relevant sessions.
Cassis French Tuition Tunbridge Wells
Mob : 07538382340
Email : cassisfrenchtuition@gmail.com